How you can benefit.
Do you want to feel better in some way!? Whether it's physically, mentally or emotionally. Do you get the sense that this just isn't who you really are, even if you don't know what that means.
Do you feel like somethings lacking in your life, but not quite sure what it is. So you just keep hustling and accomplishing and becoming, hoping to feel the satisfaction you are so powerfully seeking!?
When your body's communication is strong and fluent, your capabilities are limitless. When there's active inner conflict, whether you are aware of it or not, it will show itself in every uncomfortable way possible. Just to get your attention.
Are you paying attention!? Do you even know what to pay attention to?
Your body is a massive network of life. Hundreds of thousands of cells are coordinating the most intricate functions of creation you couldn't possibly even begin to understand. Thank goodness it's not your job!
You have the ability to detect how well this is all going, but it's something you were taught away from, and forgot how to use. So, in the mean time you have been doing your best to live the right way and power through the struggles of life.
Unknowingly collecting a bunch of unprocessed crap, creating stress on the body resulting in more compromised dysfunction. The cycle continues from here, unless you do something about it!
We can break the cycle, and become the cooperative components we were born to be. You just have to learn how. The first step is sorting out all the BS you've accidentally collected through out your life that doesn't support your truth, so you can have some sort of idea of who you are under there.
This life is a lot easier than we've made it out to be when you access the leverage you were born with. Join me in exploring an approach to wholeness you've not encountered yet. Let's just keep it simple!
Questions!? Hit me up with anything you've got! With this leading edge awesomeness, there are definitely no dumb questions.
I'm 100% dedicated to you, and supporting your exploration of who you really are. Give yourself massive props for investing in yourself.
What does an on-line BodyTalk Series look like?
Once you sign up, I'll send you an intake form to get a clear idea of who you are and what you want to accomplish. We'll build a clear foundation of where you are in relationship to where you want to be, allowing for a focused plan moving forward.
This series requires you to commit to 6 sessions over the course of three months in order to deliver you the most beneficial results possible. Like planting a seed, you don't just give up before it sprouts you water and feed it until it finally pops it's little head out and greets the world.
Because I'm showing up 100% for you in one on one sessions, you'll always have my utmost support. There are limited spots available, allowing me to fully commit to each individual process.
These sessions are done through the universal matrix that connects us all, yes it really does work. I don't fully understand how energy flows from a light switch to the light bulb, but it never stops me from flipping on the switch.
Just because you may not understand how it works, doesn't mean you should miss out on the benefits.
Each session will performed individually just for you, then you'll be e-mail all of the notes and information addressed in these session. You'll always have full 24/7 access to me personally through e-mail, phone calls, Skype, whatever you need. I am here for you!
Through these sessions you'll you begin to understand yourself more clearly, from why you have symptoms to the physiological behavior of your body. It's amazing to me how little we know about the only thing we spend out entire lives with.
I don't want to overwhelm you with anatomy and physiology though, my approach is definitely to keep it simple and expansive all at the same time!
This is by far some of my favorite work to do, it's exciting leading edge awareness that I can not wait to share with you! I so much look forward to the work we can do together.
Check out more on The BodyTalk System below with an excerpt from www.bodytalksystem.com
BodyTalk is WholeHealthcare™
The BodyTalk System seeks to address the "whole person". This means that no aspect of the human psyche can be overlooked, be it emotional, physical or environmental. In BodyTalk, we have developed a whole-healthcare system that supports and promotes the wellbeing of any person, animal, or plant.
As WholeHealthcare™, BodyTalk understands the profound influence the psychology of the body has on our health. Instead of focusing on the symptom, BodyTalk finds the underlying causes of illness by addressing the whole-person and their whole-story.
The BodyTalk techniques provide insights to the areas of your body that need attention. What might seem like an obvious problem to you is not necessarily the one your body wants to address first.
This is the beauty of BodyTalk. It respects the body's own needs and determines your body's priorities for healing. Then with the use of a variety of non-invasive techniques, BodyTalkers refocus your body's natural healing response to establish better communication within the body.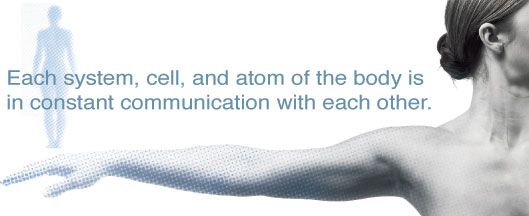 BodyTalk looks at the big picture
Health challenges arise for a variety of reasons. When a practitioner is trained to look at the whole-person, emotional, physical and environmental influences – the true underlying causes of dis-ease can be revealed.
Every choice, and every experience in your life, has contributed to your current state of health. Each scar, laugh line and injury has a unique story and a history. BodyTalk takes into consideration your whole-story. Your life-style, genetics and history are all drawn upon to establish a personalized approach to Healthcare that brings about lasting changes.
BodyTalk recognises that each system of healthcare and each practitioner have a unique knowledge and skill set. BodyTalk is designed to integrate all fields of healthcare to create a complete approach to health and wellbeing. This includes referring a client onto another Healthcare practitioner or field of healthcare when necessary.
I Am Your Body
The body can be addressed in many different ways. One effective approach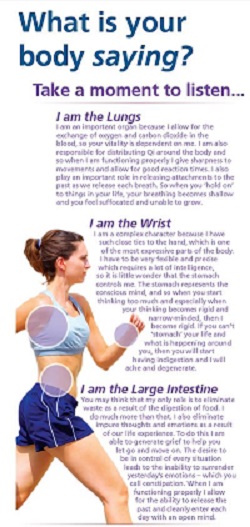 taken in The BodyTalk System is to understand the functions of the body according to the discoveries of Traditional Chinese Medicine and Bioenergetic Psychology. These systems developed an understanding of the relationships of physical wellbeing and psychological wellbeing.
Considering the whole-story of the body is extremely important to the healing process. By doing this, The BodyTalk System is providing a truly whole-istic approach to the treatment of dis-ease. This understanding, along with the effective BodyTalk techniques is why The BodyTalk System is such an effective Healthcare system.
The study of all this is fascinating. If you truly understand the energic psychological makeup of the body, you then start to appreciate how dis-ease develops and why it is maintained.
Ultimately, the bodymind knows best how to heal itself in a holistic way. Any interference by way of treating symptoms is only a compromise, for the real power of healing lies innately within the BodyTalk system.
*Excerpt from www.bodytalksystem.com